COURSES

Choose a course of study that matches your dreams for the future
SCHOOL INFORMATION
Set your own goals
We will support your efforts to "become the person you want to be," and by providing you with guidance tailored to your chosen path, we will help you expand your options for the future, such as the university you want to attend or the job you want to do.
General Course
(Girls only)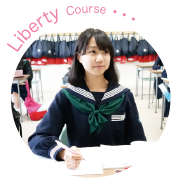 Liberty Course
You will equip yourself with general knowledge during the first year. This will prepare you to make choices in line with your interests in the second year.
This course gives you the liberty to design your future by finding your dreams and potential.
(You will have to choose between "the sciences" and "liberal arts" when entering the third year.)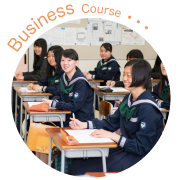 Business Course
This course aims to nurture women who are able to play an active role in society upon graduation by equipping them with skills and knowledge required in various business settings, such as bookkeeping and information processing, as well as social manners.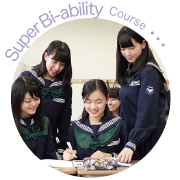 Super Bi-ability Course(SBC)
"I'd like to go to a public university or one of the elite private universities, but I also want to take part in club activities (or other activities outside school)."
Our Super Bi-Ability Course supports such aspirations by enabling you to pursue both your studies and other interests.